The College library provides information support to the teaching-faculties, students & research-scholars with its collection of about 24118 documents, including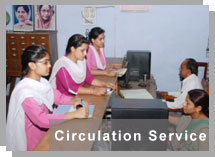 books/textbooks on various subjects, Dissertation, project-reports, Seminar/survey files, Journals, CDs & Cassettes, etc. The college is the member of NLIST project of INFLIBNET which facilitates our students to access 97000 books & 6000 journals of different subjects. The library also subscribes 46 print Journals, 17 periodicals and 15 dailies.
Library Services - The library provides the following services to its clientele.
| | |
| --- | --- |
| | |
| | Circulation Service |
| | Reference Service |
| | Bibliographic/ Indexing Service |
| | Newspaper Clipping Service |
| | Internet Search Service |
| | Photocopying Service |
The process of circulation of documents has been computerized. The students can also consult information resources like e-books, e-journals through Internet search service which is provided with the help of 12 terminals. The library is also equipped with laptop, LCD projector & Interactive Panel for power-point presentations

ACHIEVEMENTS
SCHOLARSHIPS
ALUMNI
ANTI RAGGING
DEPARTMENTS
PHOTO GALLERY
LIBRARY
COMPUTER RESOURCES



G.D.M College @ 2014 All Right Reserved I Maverick India