Ginni Devi Modi Girls' P.G. College has step up by opening the Gym and Yoga Centre for the The aim of our gym and yoga center is to make everyone physically and mentally fit and stable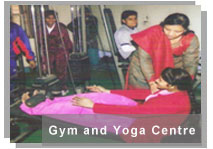 to make them worth for leading the good path. The gym and yoga center is settled only for women which helps and motivate to make them strong to play the important role as youth and lead the nation in a supportive manner. It will make them to stand out for their own rights and this center will help to regulate their mind in good things.
Asha Bansal is the Co-ordinator of gym and yoga center of our college. The centre has also opened gates for outsider women to provide the best gym and yoga facilities under guidance of Miss. Kavita. She has been appointed as a gym trainer for better services.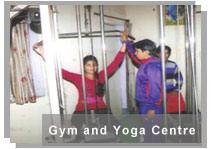 We are providing the advanced and modern gym facilities to ensure a healthy and physically fit body and they are also grinned mentally by our yoga facilities. We recommend yoga postures to our trainees before the gym workout, as they reduce risk of injury and help warm up the body. After the workout, yoga poses help stretch the muscles and cool down the body. We have completed two years successfully of our gym and yoga center. The gym and yoga centre has enrolled more than 95 guise in the session 2013-14.
The Gym is open for the women students and faculty 6-9 in the morning and 4-7 in the evening. The gym has variety of equipments. We are also looking forward for preparing our students for the inter-university level and even for the national level. We are discovering the abilities of students by these modern facilities by which our students can also take part in national and All-India Level and give best performance and take our institution name to greater heights.
G.D.M College @ 2014 All Right Reserved I Maverick India